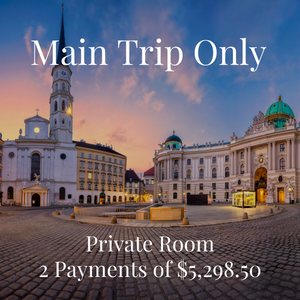 Ticket includes a private room for the main trip.
Main trip dates are October 17-26, 2021 (depart the U.S. on Oct 16) and post-trip dates are October 26-29, 2021.
More information about Fine Art Connoisseur's Fine Art Trip 2021 will be coming soon. 
Payment 50% at time of booking, 50% in 30 days: 
A deposit of 50% of the total trip cost is required at time of booking. Final payment is due 30 days after initial booking and will be charged to your card automatically.  Your credit card will be charged by Streamline Publishing.
Cancellation Policy:
Between time of booking & May 31, 2021: A $250 cancellation fee applies
Between June 1 ,2021 & August 1, 2021: a $500 cancellation fee applies
Between August 2, 2021 & September 1, 2021: 50% of package price is nonrefundable
Between September 2, 2021 & program date of October 17, 2021: 100% nonrefundable 

Should the U.S., German, or Austrian Governments deem it unsafe to travel, close borders, or otherwise disallow travel, the travel program will be cancelled in full and refunds for monies paid will be returned or transferred.