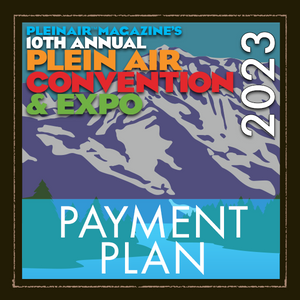 Your
 

General Admission Ticket

 

includes access to the 5-Day Plein Air Convention & Expo, May 21st-25th, 2023.
During this once-in-a-lifetime event, you will…
Attend world-class painting demonstrations on four in-door stages, with specialty sessions for oil, watercolor, pastel, and acrylic painting!

Meet and learn from 80 of the world's most famous artists––all under one roof!

Receive the simple tips and secrets to selling your art at a premium, from the world's greatest art marketer!

Accelerate your growth as a painter over just 5 transformative days––instead of years!

Get exclusive convention discounts from the industries best art suppliers

Paint in some of Colorado's most stunning outdoor locations

Make life-long friendships with other artists and painting enthusiasts

And much, much more!
Get your ticket for only 10 payments of $120
Cancellation today- 12/30/22
 

= 100% Refund, less a $50 processing fee
Cancellation 12/31/22- 4/14/23

 

= 50% Refund, less a $50 processing fee
Cancellation on or after 4/15/23=

 

No Refund