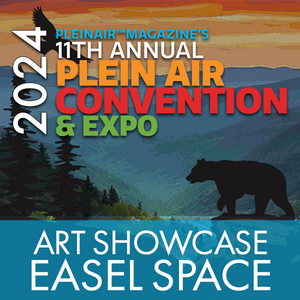 Event Dates: 5/20/24 – 5/24/24
Reserve your easel now for the 2024 Art Showcase and Sale and you'll have your own place to sell your paintings in our popular Art Sale that will be open to the public! If your first painting sells, you can place another – the easel is yours for the duration of the sale!
ATTENDEE ART SHOWCASE AND SALE
OPEN TO THE PUBLIC
The Art Showcase will be open the entire time the Plein Air Convention indoor portion is open May 20-24.  IT WILL BE OPEN TO THE PUBLIC. (Public cannot attend the convention without a ticket.)  PleinAir magazine will invite galleries, collectors and the general public.
The Art Showcase will open on May 20th and close on May 24th at 1 p.m. Paintings will be sold via a special desk in the art show area. Security will be provided. Click for Art Showcase Terms and Information.
Please purchase your EASEL rental when you register for the convention. It is not included in convention registration.
Easel rental will be sold on a first-come, first-serve basis until sold out.