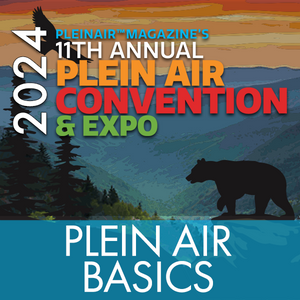 Monday May 20th, 2024
See the world in a whole new way, like a plein air painter!

Join us for this beginner session, a hands-on class that sets you up for everything else you will learn during the Plein Air Convention & Expo. Miss this class and you'll miss the fundamental skills you'll need to succeed at this unique art form. This session is not a lecture; it is highly interactive and filled with unique exercises. You'll come away with tons of inspiration and a wealth of new skills and techniques.
The Basics Course staff and mentors are committed to the plein air experience and will introduce novices to this wonderful form of expression, taking each participant to new heights. Basic instruction in all mediums will enable participants to take advantage of the magnificent outdoor painting possibilities in the Great Smoky Mountains area.Instructors and details to be announced soon!